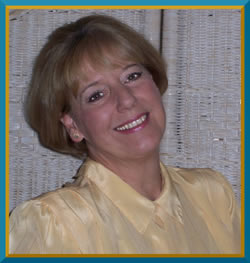 Nancy Haddock is an award-winning and national bestselling author of mystery romance who also writes cozy mystery. Basket Case and Paint the Town Dead are the first books in the Silver Six Crafting mysteries released by Berkley Prime Crime. A Crime of Poison will release in December, 2017.
Her earlier books, also with Berkley, are La Vida Vampire, Last Vampire Standing, and Always The Vampire. These books feature Cesca, aka Gidget with fangs, and are set in Haddock's current hometown, St. Augustine, FL. She also contributed the St. Augustine-set short story "Medium Rare" to both the paranormal romance anthology Entangled and the boxed set Entranced.
Nancy draws on historic wealth, southern culture, and the plain old quirkiness of places for her books. A former speech pathologist and high school teacher in Oklahoma and Texas, Nancy now writes full-time. She lives with her husband and rescue dog Baron.
Nancy Haddock may not have seen persistence as one of her virtues, but, after two decades of writing for publication, persistence paid. The Berkley Publishing Group bought her light paranormal mystery-romance trilogy set in St. Augustine, FL, publishing La Vida Vampire (2008), Last Vampire Standing (2009) and Always The Vampire (2011).
Now Nancy has added cozy mysteries to her résumé via Berkley Prime Crime.  Her Silver Six Crafting Mysteries are Basket Case and Paint the Town Dead, and the third book, A Crime of Poison, will release in December, 2017.
Nancy also wrote "Medium Rare," a short story for the charity e-book anthology Entangled(2011) which also appeared in the box set Entranced (2014).
A national bestselling and award-winning author, Nancy majored in Education/ Speech and Language Pathology at the University of Tulsa, and worked in a both private and public-school settings. When she remarried and more children came into her life, she attended graduate school full time. She also took classes in American Sign Language, and later taught classes to both adults and children. After moving to the Dallas area when her husband was transferred, Nancy began writing romance.
Though Nancy has written everything from children's picture books to teleplays, she insists that moving to Florida in 2002 inspired new story-telling energy. She loves her adopted hometown of St. Augustine, is tickled to live near the beach, and enjoys various volunteer jobs.
Nancy lives with a rescue dog named Baron, and with her super-supportive husband, who is also the chef in the family. Good thing, because her persistent streak doesn't include cooking. She'd live on microwave meals and Starbucks.
AWARDS for La Vida Vampire
PRISM Contest, Best First Book (2009)
PRISM Contest, Second Place, Light Paranormal Category (2009)
Daphne Du Mauier Contest, Finalist, Paranormal Category (2009)
Aspen Gold Contest, Paranormal Category Finalist (2009)
Laurel Wreath Contest, Paranormal Category, Third Place (2009)
INTERVIEWS
Dark Faerie Tales - September 2011
Lost in a Story Blog - May 2011
Fang-Tastic Books Blog - June 2009
Tarot Reading of Cesca - September 2009
"Always the Vampire is a gem…. Haddock has a lovely talent for balancing the mundane with the supernatural, that no matter how bad things are life, or underlife, goes on. ~ Night Owl Reviews
" …this paranormal romance that is also a well-developed mystery with just enough clues to keep the reader flipping the pages to reach the unexpected conclusion." ~Crystal Book Reviews
"Full of vampires, magic and even a were-dolphin, this book, like the previous ones in the series, are full of some lovely supernatural surprises.  Never a dull moment it is hard to put down this third installment in the series." ~Amberkatze's Book Blog
"Following her bestseller Last Vampire Standing, Haddock presents a light, sparkling paranormal romance." ~ Monsters & Critics
"Always the Vampire is exciting, zany, and full of fun characters. While not for everyone, fan's of Cat Adams' Song series and Jaye Wells' Sabina Kane series will find a great read in the entertaining book." ~ WHATCHAMACALLIT REVIEW
"This is a sunny, cheerful vampire book, which may seem odd, but isn't. Considering the paranormal genre can be a bit dark, its nice every once in a while to take a walk on the cheerier side…." ~ PARKERSBURG, WV News & Sentinel
"Expect … a fun beachy atmosphere. Haddock's portrayal of St. Augustine is good, and making Cesca a ghost-tour guide is a nice touch. ~Fantasy Literature
 "Always the Vampire …  is a fun contemporary Southern vamp murder mystery, a bit in the style of the Sookie Stackhouse series. … Cesca…is an entertaining heroine." ~ Luxury Reading
Praise for Last Vampire Standing"Nancy Haddock pens a unique tale with mesmerizing characters wrapped into an enthralling plot sure to please all types of readers. LAST VAMPIRE STANDING is a mystical novel that had this reader holding her sides from laughing so hard and grabbing tissues with the sensual sweetness of romance. Readers will sit on the edge of their seats turning the pages quickly to see what quirky happenstance will come to pass next. The vivid imagery and witty dialogue are so well done that you will feel like you are a part of the story. I love all the different magical beings that unfold within this tale. Each character is unique and a blast to read about." ~~ Romance Junkies

"The second humorous Vampire Princess urban fantasy is an enjoyable lighthearted thriller..." ~~ Alternative Worlds and The Merry Genre Go Round Reviews

"Nancy Haddock is a talented writer and her second book in the series is yet another hit." ~~ CK2S Kwips and Kritiques

"...this series is a fun read for anyone interested in the lighter, but not too light, side of vampires." ~~ Bitten By Books

"LAST VAMPIRE STANDING by Nancy Haddock is a lot of fun. Cesca is sassy and humorous and her partner Saber is the perfect compliment." ~~ Romance Readers Connection

"If you like your vampires more on the bright and funny side as opposed to dark and brooding, this book is definitely for you! There's a bit of mystery, a malevolent force threatening, and of course, humor in spades waiting to amuse you in this latest installment of the Oldest City Vampire series. Grab a copy of LAST VAMPIRE STANDING and find out for yourself how entertaining Cesca and her friends are!" ~~ Romance Reviews Today

"I love Saber and he'd better be sticking around ..." ~~ The Good, The Bad, The Unread

"This book is a bridge to what is to come. It hints at things throughout the story, but the ending is just plain wrong. Not bad wrong, but boy is Ms. Haddock a tease." ~~ Scooper Speaks

"... if instead you were interested in a humorous, sparkling, acute and full of rhythm novel then it is right for you. In fact Nancy Haddock stirs with ability the genres: paranormal, mistery, romance and above all comedy, obtaining an hybrid of sure hold." ~~ Isn't It Romantic (Italian Review Site)

"With a lovely leading lady, a well written plot and quirky characters, this has all the ingredients of a great paranormal urban fantasy book. The fantastic balance of romance, humour and mystery makes this a pleasure to read." ~~ Amberkatze's Book Blog

"This book and the previous one, are light, airy and they will make you laugh." ~~ Naughty Editions Books

"A spunky, make you laugh voice that reminds me of Janet Evanovich!" ~~ Award-winning author Diana Cosby, Author of His Woman

Praise for La Vida Vampire"A distinctive and delightful new character arrives on the scene in Haddock's irresistible first-person debut romp. You'll want to be there for the sequel!" ~~ Romantic Times BookReviews Magazine

"Bright, charming, imaginative, romantic, sexy and suspenseful" ~~ Joyce McLaughlin in Barbara Vey's Beyond Her Book Blog, Publishers Weekly

"There hasn't been a vampire heroine this fun since Betsy burst on the scene. Cesca is addictive. As soon as I finished La Vida Vampire I wanted to read it again." ~~ A Romance Review

"An exceptionally innovative vampire romance filled with tons of fun. One bite of this sassy story and you will be hooked!" ~~ Romance Junkies, Blue Ribbon Rating: 5/5

"LA VIDA VAMPIRE is funny, witty and absolutely intriguing. I'm looking forward to reading more from this new author. A great debut!" ~~ Fresh Fiction

Nancy Haddock had me hooked from page one with La Vida Vampire. The wonderfully charming heroine, sexy-as-sin hero and fabulously engaging mystery kept me turning pages into the wee hours of the morning!" ~ Julie Kenner, USA Today bestselling author of Demons Are Forever.

"Fun and quirky, this book is to die for!" ~ Gena Showalter, New York Times and USA Today bestselling author of Nymph King.

"Nancy Haddock's La Vida Vampire is fresh, original, and a wonderful slice of 'afterlife'. Save a spot on your keeper shelf for this sexy paranormal mystery!" ~ From Catherine Spangler, National bestselling Author of Touched by Fire.

"Vampires, shape-shifters and wizards...oh my! La Vida Vampire has it all. A clever mystery, an engaging, undead heroine and a make-your-fangs-drool vampire hunter. Move over, Sookie Stackhouse -- here comes Cesca Marinelli." ~ Lynn Michaels, Award-Winning author of Nightwing.

"A sultry setting, a clever mystery, and strong, sparkling characters...Nancy Haddock delivers everything it takes to make a fan out of me!" ~ Jane Graves, Award-Winning Author of Hot Wheels and High Heels.

"Nancy Haddock is to vampires as Janet Evanovich is to bounty hunters. Irresistible, entertaining, unforgettable!" ~ Lorraine Heath, New York Times bestselling Author of Just Wicked Enough.

"With her surfer vampire, Haddock crafts a story that's witty, original and thoroughly entertaining." ~ Kelley Armstrong, NYT Bestselling author of No Humans Involved.

"La Vida Vampire is fun, fun, fun! Nancy Haddock's fresh and sassy new voice enlivens a well-known genre, and her heroine is one of the most entertaining in years. Readers will enjoy the snappy dialogue, irreverent tone, fabulous setting, and the fascinating world. Wonderful!" ~ Kathleen Givens, National bestselling author of Rivals for the Crown and On a Highland Shore.

"This is one Vampire chick I'd love to hang out with, and the mystery is to die for. Haddock has created a delightful, sexy romp of a good time." ~ Candace Havens, bestselling author of the Charmed & Dangerous series.

"… this funny, clever novel is sure to hook readers and leave them wanting more." ~ Romance Reviews Today

"a brilliant debut" ~ Paranormal Romance (PNR)

"Nancy Haddock spins a great read that I found remarkably done." ~ Coffee Time Romance & More

"In La Vida Vampire, Francesca "Cesca" Marinelli is a vamp with class and a style all her own." ~ Bitten by Books

"Nancy Haddock breathes new life into the vampire genre with LA VIDA VAMPIRE." ~ Kwips & Kritiques

"Ms. Haddock is an author you want to keep an eye on. She is definitely a rising star." ~ Love Romances and More

"If you like humor mixed in with the paranormal suspense then don't miss this exceptional debut by Nancy Haddock." ~ A Romance Review

"If you enjoy watching humorous mysteries on television or at the movies, you will adore this." ~ Huntress Reviews

"Haddock ... a talented writer who I'll be looking out for." ~ Night Owl Romance

"You can't help but fall in love with Cecsa" ~ Simply Romance Reviews