After a year plus of family health issues, hubby is well on the mend, and I'm thrilled to be back on the ball.
Notice my redesigned pages? Hope you think them as awesome as I do! The new design is more in keeping with the amateur sleuth mysteries I'm now writing. Never fear, though! My vampire trilogy and short story are still available, and who knows what I may write in the future.
For now, I'm thrilled to officially announce my upcoming release!
Breaking News!
Basket Case is here!
Okay, the final cover art and blurb are here. The release date is September 1, 2015, and I'm gearing up for appearances and cool swag giveaways! I hope y'all will stay tuned!
Basket Case is a Berkley Prime Crime book, a cozy mystery, which is, believe it or not, only a slight detour from my mystery-romance Cesca books. Basket Case is available for pre-order now at Amazon and B&N in mass market paperback, Kindle and Nook editions. And the Kindle edition is on a preorder sale!
Basket Case
Leslee Stanton "Nixy" Nix expects trouble when she's summoned to check the welfare of her basket-weaving Aunt Sherry Mae. The trouble she expects in little Lilyvale, Arkansas is not the kind of trouble she finds. Sherry and her five housemates are not the least bit ill or forgetful, much less senile enough to be causing explosions and fires in the rambling old farmhouse. The self-styled Senior Six are, in fact, hosting a mobbed folk art festival on the lawn when Nixy arrives.

Nixy soon learns they are also battling a nasty-tempered real estate developer, a woman who wants Sherry Mae's ancestral home and land at any cost. The seniors suspect the developer of burglarizing their barn, blowing up their mailbox, and then poisoning a box of chocolates left for Sherry.

Nixy still plans to return to her life and her art-gallery job in Houston—until the developer is found dead in the family cemetery. Now Sherry Mae is a suspect, and Nixy is determined to stay in Lilyvale to prove her aunt's innocence. Nixy rallies the seniors to help investigate—a move that defies handsome police detective Eric Shoar, and puts Nixy and the Six in the killer's sights.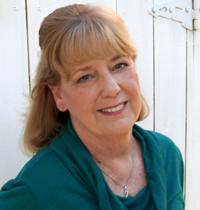 Ponytails and Claw Clips!

A bit after Entangled was released – the paranormal anthology to benefit breast cancer - I began growing my hair with the intent of donating it to Locks of Love or a similar organization. Well, I did that, and now I'm cutting my hair shorter in stages. This long-hair photo credit goes to Dolorianne Morris. She's marvelous! This new photo is courtesy of my hubby. Still using claw clips, though the ponytail is pretty much history.
Find me on the Web here:
Newsletter |Facebook |Twitter |Goodreads |About Me

Happy Reading, and Happy Spring! 

Wednesday, Sept. 9, 4:30-6:30 pm
Booksigning at Starbucks in Anastasia Plaza
1047 A1A Beach Blvd #18, St. Augustine, FL 32080
A portion of the book sales to benefit the Anastasia Island Friends of the Library
Saturday, October 3, 2015, 2 pm
B&N Firewheel
190 Cedar Sage Drive
Garland, TX 75040
* Portion of the sales to benefit Richardson Adult Literacy Center
Sunday, Oct. 4, 2015, from 3-6 pm
10th annual Buns & Roses Romance Tea for Literacy
Renaissance Hotel, Richardson, TX
Keynote: Tessa Dare
Thursday, Oct. 8, 2015 from 4-7 pm
Columbia County Library, Magnolia, AR
220 E Main St
Magnolia, AR
(870) 234-1991