Leslee Stanton Nix—aka "Nixy"—thought moving to small-town Lilyvale, Arkansas, would be about as thrilling as watching paint dry. But keeping up with her retired Aunt Sherry and her troublemaking housemates—collectively known as the Silver Six—has proven to be as exciting as it is exasperating.

To kick off the grand opening of their craft shop, the Handcraft Emporium, Nixy and the Silver Six invite Doralee Gordon to teach a gourd painting class. Doralee's spirit gets squashed when her ex crashes the class with his new fiancée, but things really get messy when the bride-to-be later turns up dead. Now it's up to Nixy and the Silver Six to use their melons to find the killer—before someone else gets painted out of the picture...
Reviews...
It's almost time for Basket Case to officially release, and I'm about to bust my buttons with excitement!
"Basket Case is an outstanding introduction to a very talented author…. I highly recommend Basket Case for an entertaining cast of characters and a gift for mystery." ~ 5 Cups, Coffee Time Romance & More
"Nancy Haddock's Basket Case has everything I could ask for in a cozy mystery. There's humor, outrageously fun characters, great writing, a wonderful plot and of course, murder." ~ Rating: 5, Read Your Writes
"This is a terrific cozy, complete with good and bad guys and at least one blooming romance between Nixy and Detective Eric." ~ Suspense Magazine
"I absolutely loved this new series and I thoroughly enjoyed getting to know all the characters and their personalities." ~ Top Pick, Night Owl Reviews
Basket Case is the first book in the Silver Six Crafting mysteries from Berkley Prime Crime, and, if you're not signed up to receive my newsletter, I hope you'll click on the button to your right! I hold giveaways via the newsletter, and I'm fixin' to hold a biggie in September.
Basket Case is available for pre-order now at Amazon and B&N in mass market paperback, Kindle and Nook editions. And the Kindle edition is on a preorder sale! Read on to learn more about the new book, and Happy Reading!
Basket Case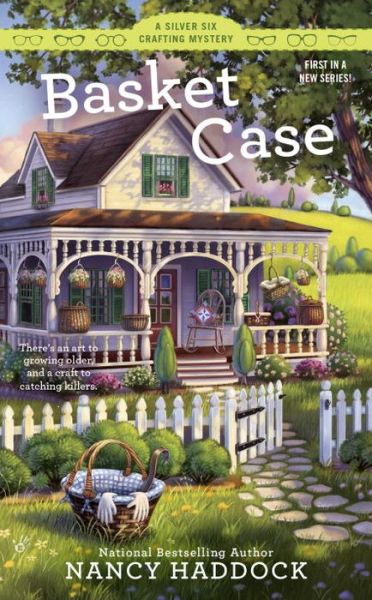 Leslee Stanton "Nixy" Nix expects trouble when she's summoned to check the welfare of her basket-weaving Aunt Sherry Mae. The trouble she expects in little Lilyvale, Arkansas is not the kind of trouble she finds. Sherry and her five housemates are not the least bit ill or forgetful, much less senile enough to be causing explosions and fires in the rambling old farmhouse. The self-styled Senior Six are, in fact, hosting a mobbed folk art festival on the lawn when Nixy arrives.

Nixy soon learns they are also battling a nasty-tempered real estate developer, a woman who wants Sherry Mae's ancestral home and land at any cost. The seniors suspect the developer of burglarizing their barn, blowing up their mailbox, and then poisoning a box of chocolates left for Sherry.

Nixy still plans to return to her life and her art-gallery job in Houston—until the developer is found dead in the family cemetery. Now Sherry Mae is a suspect, and Nixy is determined to stay in Lilyvale to prove her aunt's innocence. Nixy rallies the seniors to help investigate—a move that defies handsome police detective Eric Shoar, and puts Nixy and the Six in the killer's sights.
| | |
| --- | --- |
| | |